I am in the final, very last, can-almost-see-the-finish-line bit of the first round of edits for VISION.  And I'm so bleary-eyed that I have no idea if this post will make any sense.  Mea culpa. Three new YA books hit the shelves today:
Whisper by Phoebe Kitanidis is about a girl who hears all the thoughts of those around her.  Totally up my alley and definitely on my TBR list, though god only knows when. 
.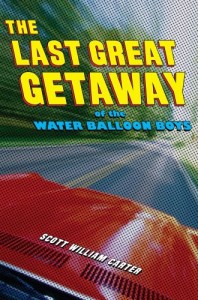 The Last Great Getaway of the Water Balloon Boys by Scott William Carter.  For a preview, visit his blog where you can read the first page.
.
And, Mistwood by Leah Cypess, a YA shapeshifter fantasy that's gotten some great reviews including a starred one from Kirkus (go Leah!)
Congrats Phoebe, Scott and Leah!
Now I've gotta get back to work...